Hey Man, Take Care Of Your Biggest Organ - No Not That One
I know many people who are frustrated that a few cancers seem to get all the attention and fundraising. Recent experiences and publicity made me want to bring attention to a cancer many
men
don't even think about, but should .
. . .
Former NFL coach Bill Cowher announced this week that the NFL will be working with several organizations on Melanoma Exposed. This is a program targeted at MEN to offer free skin cancer screenings at pro football events this year. You can find m
ore about this program kickoff
here
.
Mr. Cowher said his reason for involvement is "As a former football coach, one of my biggest lessons to my players was about being accountable for their actions. I apply this 'no excuses' attitude to my health as well... Getting your skin screened by a dermatologist is quick and easy -- it takes about 10 minutes. Men need to face the truth and learn the facts about melanoma. "
Why should men worry about melanoma? Statistically, the majority of people who get melanoma (the most serious of skin cancers) are white men over 50, and they discover the growths later than women, when they are harder to treat. And while men aren't naturally more likley to develop skin cancer than women, the problem is twofold: more sun exposure, and fewer visits to the doctor.
Consider these factors:
It's well known that men take poorer care of their health than women The combination of exposure and neglect is especially dangerous when it comes to melanoma.
Men work and play outdoors more than women. According to the National Sun Protection Advisory Council, found that men spend 36 hours a week in the sun - 10 hours a week more than women. 25 percent of men make a concerted effort to stay out of the sun, compared to 39 percent of women. Men tend to spend the extra hours working outdoors and playing sports
Men have more skin exposure, especially on their head, face, and upper body than women, Considering that men's melanomas more often develop on the difficult-to-see upper back, men are less likely to detect the disease early, when it is easily cured. "A melanoma no thicker than a dime can pose a significant risk of mortality," said Allan C. Halpern, MD, Chief, Dermatology Service, Memorial Sloan-Kettering Cancer Center, New York City.
Men also tend to not bother with sun protection techniques. If they use sunscreen at all, they may put on too little and not reapply it. If they wear a hat, it's usually a baseball cap, which is better than nothing, but protects only the forehead and front of the face, not the neck or side of the face.
(On a personal note: I will say I know that I see more men at outdoor events here in Wisconsin that are literally glowing from a bad sun burn, especially early in the season. I bet you have too! I also know someone who had it on the top of his head, right about where the button on a baseball cap would be.)
The program the NFL is looking at has already succeeded 'down under' in Australia, where they have the highest skin cancer incidence rate in the world.
The Skin Watch program there included athletes and celebrities promoting free skin cancer screenings. The men who went through the program were twice as likely to self exam and four times as likely to visit a doctor for a skin exam. You can find more information here.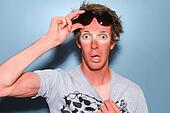 Don't be this guy: wear sunscreen or a hat,
have a preventative screening,
and if you see something odd like ABCDE,
please have it looked at.
If you are going to screen yourself, you should keep in mind
the ABCDE guidelines, which tell you what to look for.
This cause is near and dear to me as I recently lost someone who waited too long to have a weird spot looked at, was diagnosed and beat it once, and the next time it had spread to their organs. That's what melanoma does if untreated - it can kill you!
Remember - we are only a month from the Summer solstice when the sun is at is strongest (but not closest), so the sun is just as strong now as it is when it
gets warmer. Protect yourself, w
e'd like to have you all around for a very long time!