Great Play: NBA Exec Shines In Coming Out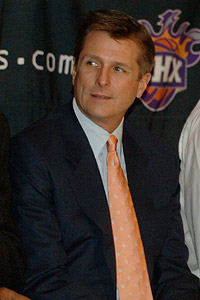 The fact that there is less and less fanfare when people come out as being gay is a good thing, it shouldn't be a big deal. But in the sports world, especially men's professional sports, being gay still has a huge stigma attached. And so it is very admirable that Phoenix Suns president and chief executive Rick Welts recently
came out as being gay
.
As Welts him self said in the NY Times article:
"This is one of the last industries where the subject is off limits... Nobody's comfortable in engaging in a conversation."
The story covers his rise as an NBA exec and the many things he did for his team and the entire league - including creating the NBA All-Star Weekend and slam-dunk contest. Later he would have to hide his grief over the death of his partner to AIDS. Welts now has done maybe more for the league than any of the programss he started.
An interesting note is that commissioner Stern has known for a while, as well as many if not all of the Suns, and the article shows character and heart in Stern's dealings with Welts in the past and in the coming out.
Congratulations and best of luck Mr. Welts in the future that lays open for you.